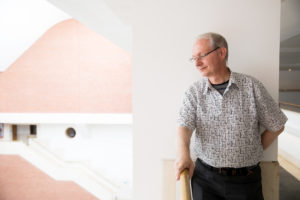 I meet Paul Allchin at the British Library to talk about a night out in King's Cross with ex-partner George Duff. The conversation moves from the night out to the roles we play in the lives of those we are closest to. It feels like we are a million miles from the small room at the back of the library. As Paul says;
'I have this terribly conventional life, once you peel back the conventions, there's not much that's conventional about me'
Paul recounts a memorable evening spent with ex-partner George Duff at Central Station, a pub in King's Cross well known for it's fetish scene.
'I remember one visit…Five pounds to get in…A crowd clad in rubber, leather and the odd spangled thong…George found sex and I had a lovely chat with two people dressed as furry animals'
Paul's relationship with George had come to an end a few years earlier.
'George was my most difficult but meaningful relationship…Confrontational relationships are the most intimate because you really get to know someone when they come out of their corner'

George's star had shone bright in Paul's life and the magnetic attraction between the two was undeniable, with friends commenting on the energy in the room when the two were together.
George committed suicide in 2014, after redundancy and a life of disability and gay discrimination.
The subsequent cleaning up of George's flat saw Paul having to deal with the large rubber collection George had left behind.
'There wasn't much that could be salvaged, except his vast array of rubber gear… I washed it all…and I had this stuff hanging up like bats in my loft for ages'
Reflecting back, Paul tells me;
'Curiosity takes you to strange places…and to people I've come across who are willing to be open, genuine and real…You should never judge a book by it's cover'