Jim MacSweeney moved from Ireland to London in 1982 to do a drama course, and found a world that felt 20 years ahead of the place he had left behind.By his own admission, he wonders whether he came for a drama course, or to deal with his sexuality.
The move proved to be both a political and a sexual awakening, offering him the freedom to explore his politics, and to deal with the shame he had felt as a gay man growing up in Ireland.
King's Cross played a big part in his life, with venues like Traffic – where Jim met his first boyfriend – The Bell (now The Big Chill) and The Scala theatre all featuring in the gay nightlife of the time. They where havens in an area he describes as being 'well dodgy'.
'You would keep your eyes peeled, and ready to cross the road if necessary…It was dark, it was lonely. High brick walls on one side up from the station, and kinda derelict. Not at all like it is now.'

Gays The Word
Central to Jim's journey has been Gays The Word bookshop. Founded in 1979 in Marchmont Street, the bookshop has had an often challenging history. Attempts to close the bookshop in April 1984 by Customs and Excise – they had assumed the place was a sex shop – mobilised the staff, helping raise money to successfully fight the charges brought against them. This history of activism carried through into other causes. Lesbians and Gays Support the Miners saw the bookshop collecting money for Welsh miners made unemployed by the then Thatcher government. This was later turned into the 2014 movie Pride, which the bookshop features in.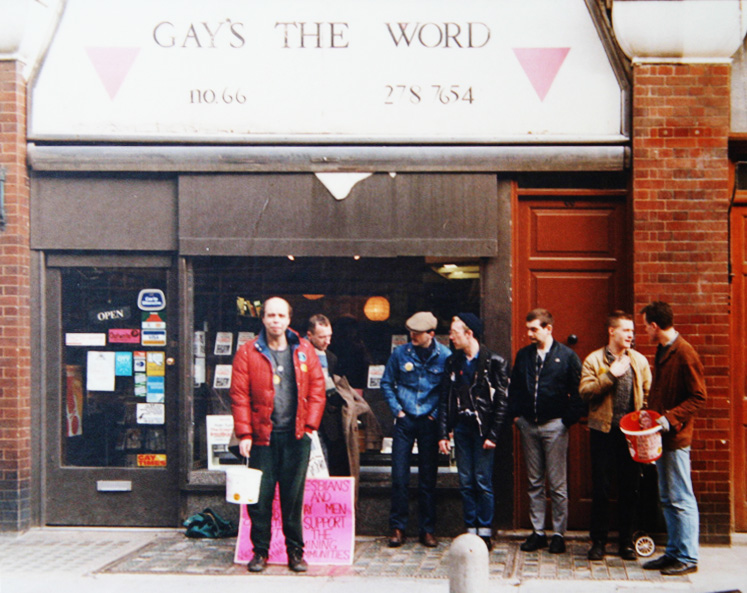 The influence the bookshop has had on peoples lives is not lost on Jim, and with Gays The Word in it's 38th year, it seems the struggles he has helped fight have been well worth it.
'You never know what effect you're having on people…I'm aware that even now, people from around the world make their way to the bookshop…It's so much more than a bookshop, it's a community space'