Richard Brunskill joined the Story Palace team at an LGBT celebration event that we held at the end of September 2017. We tapped into a rich seam of narrative history centered on The Bell pub on Pentonville Road (Now called Big Chill House, and serving a rather different demographic). The Bell was a hugely important pub for the politically active, countercultural, lesbian and gay scene in the late 80s and 90s.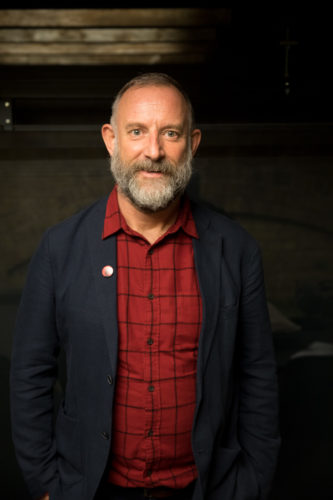 Richard was born in August 1964, and currently lives in Kennington, South London, where he has lived for the past 26 years. In his interview he talked about how central London has shrunk in his imagination since his days frequenting The Bell. Back in the 80s and 90s, King's Cross seemed impossibly far away, and the rush to catch the last train home was fraught with the horror of a night bus. Now he realises he could do the walk from King's Cross to home in under an hour.
Richard talked about how far we still have to go until gay people have the rights and the dignity that other people enjoy. Though he strikes a celebratory tone remembering The Bell, he is careful to not to forget "the dark cloud of the AIDS crisis" that the gay community was living under at the time. He also talks about the threat of violence that the presence of far right and fascist groups active in the area at the time brought with them. Particularly, he references Nicky Crane, who was a well known neo-nazi activist living in the area. Nicky Crane came out as gay in 1992 (when he was immediately disowned by his nazi associates), before dying of an AIDS related illness in 1993. According to some sources, he was also a regular at The Bell. Given the incompatibility of Crane's politics with The Bell's usuals, this seems unlikely, but we'd be fascinated to hear from you if you know differently.
Richard also reeled off a more glamorous list of celebrities that found their way through the doors of The Bell during its heyday, including Boy George, George Michael, Jimmy Somerville, Sinead O'Connor, Julian Clary, Andy Bell, Vince Clarke and Lee Bowery. But it was the presence of women that made The Bell such an appealing hangout for Richard. Brought up in a household full of women, Richard finds that his most meaningful relationships are with women, and the demarcated climate of the gay scene at time sometimes made socialising hard: "Let me tell you" Richard told me, "It sucks being gay when you don't like men very much". At The Bell, he found a place where he could "love girls and kiss boys", without the fear of judgement.
You can listen to more stories from The Bell here, here and here.