Nazmia, born in 1979, was part of the group that put on Ladyfest London, a feminist music festival, in 2002 at The Garage in Highbury. The original Ladyfest took place in Olympia, Washington in 2000 and inspired a continuing global movement. Nazmia also curated films at the London Lesbian and Gay Film Festival (now BFI Flare) from 2009-2014.
Nazmia organised the spoken word, performance and nightlife aspects of Ladyfest. Her involvement in the festival opened the doors to a post-riot grrrl, underground, feminist, queer scene that once she'd discovered, that she felt at home in.
She began her story by wondering whether she had a connection with King's Cross,  but she quickly realised that she did, it was simply that "None of it [happened] in the daylight".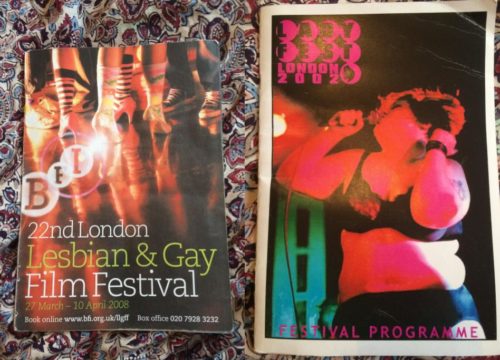 Nazmia saw the festival as an opportunity to become part of a feminist community with which to address some of the challenging issues of the moment.
The photos shared here include the listing for a film screening that took place at Central Station and an image of Nazmia and Sts, a member of queercore band The Haggard, back stage at The Garage. Her oral history records her experiences in the late 1990s and early 2000s.