Ursula Troche is a writer, 'train-informed psychogeographer', performance poet and life model who has played an active role in the politics of women's and race equality since moving to London in 1991 from her hometown of Löhne, Germany, in 1991. In a locational interview in the grounds of St. Pancras Old Church, Kings Cross she discusses her connections and affinities with the Kings Cross area.
Ursula's love of trains and travel stems from an early age, it helped having a father who was a railway engineer, but discovering that Löhne was on a direct train route between Moscow and London set her train thoughts in motion. On a tour of Europe in 1991, she arrived in the UK by chance, and has been here ever since.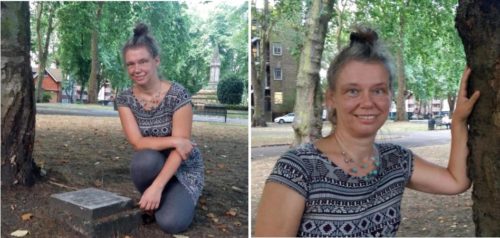 She has fond memories of many of the original features of the stations at St Pancras and Kings Cross prior to refurbishment.
In what Ursula now refers to as 'The Antiapartheid Park' in the leafy grounds of St Pancras Old Church she discovered an almost completely forgotten memorial, laid by Camden Council in 1986, to those who died in the Sharpeville Massacre of 1960.
Talking about her work with maps and trains she discusses the urban morphology of the Kings Cross area as well as her methods and inspirations for experimental writing and artforms such as 'Train Lines'.
Story and photographs by Simon Bradley