Over the course of the last few months the King's Cross Story Palace  team having been running workshops at the Chadswell Healthy Living Centre.  The centre is run by the King's Cross and Brunswick Neighbourhood Association and works with Somali and Bangladeshi women as well as the Chinese community.
Over three sessions we worked with the Bangladeshi women's group to explore their journey to King's Cross, their day-to-day life and the changes that they have seen since their arrival.  The sessions provided us with an opportunity to hear about their experiences of King's Cross and how they felt about their local area.
Objects of Importance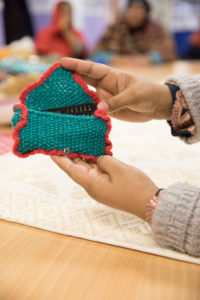 In the last session we asked everyone  to bring in objects which were important to them and tell us a little bit about them. The individual objects they brought showed something of themselves and their experience, and it was clear that there was an immense sense of pride in showing us the objects that they valued. Many of the objects referenced Bangladesh and the women's past. Fans and bags made using traditional weaving techniques sat alongside hand knitted mobile phone cases, the stories told through the objects were that of both the womens' past and present.
The King's Cross Story Palace team is really looking forward to continuing to work with the group in 2018.  It is clear that the Chadswell Healthy living Centre plays a big part in the women's lives and in their sense of community and the team is really looking forward to recording these stories and sharing them in the future.