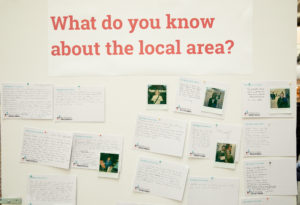 Developing a theme based approach
When we started interviewing people for the King's Cross Story Palace, we had two criteria for the stories we would be gathering: They had to take place within the last 100 years, and they had to relate to the mile radius around King's Cross Station. King's Cross ward – approximately a quarter of the area we're looking at, has a population of nearly 12,000 people. So if our area consists of roughly 48,000 people, and our time frame is 100 years, that's a lot of potential stories.
Our first task was to narrow our focus. We were aware of the rich LGBT history of the area, so we started with that as a theme. To access lesbians and gay men who had memories of King's Cross, we talked to a performer who had recently created a one-man show about gay nightlife in King's Cross in the 80s. He put us in touch with a number of other people, and from there our contacts snowballed.
At the same time we were running heritage workshops with local older adults groups, and talking to people that had lived, worked or played in the area over the course of their lives. As we talked to people, and came to better understand our area, we developed new themes, which, in turn, helped us to access more people to talk to.   
Beyond Themes
Working to a theme – or a set of themes – makes finding and selecting people to interview much easier. However, outputs based on themes alone can feel more like lectures than conversations.
Presenting material in this way also runs the risk of siloing stories and experiences. If we presented all our LGBT stories in one place, and all our migration stories somewhere else, we would be imposing (often false) divides on our storytellers, and reducing the complexity of their lives – people are always more than migrants, social housing residents or lesbian party-goers.
The next step was to open up the themes so that they made space for the opinions and expertise of our audiences.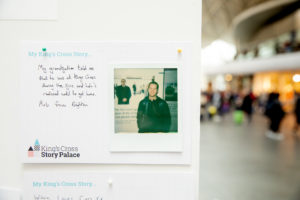 Raising Questions
Once we had gathered a critical mass of stories within each of our eight themes, we revisited the material and listened for questions raised in our storytellers' accounts. Through this process we uncovered a series of questions around which to group our stories.
By curating our content around questions raised by our storytellers, we defer to their expertise about what is urgent or significant about the area they are remembering. We won't attempt to answer the questions. Instead we will present the stories to create multi-voiced impressions that are sometimes convergent, and sometimes divergent. In this way we hope to acknowledge the complexity of the area. Asking questions that are only partially answered by the stories we present, also leaves space for audiences to join in the conversation.
Our exhibitions will ask questions that don't have simple answers. We will present the voices of people who are equipped to spark a conversation. We will engage audiences in reflecting on what King's Cross has meant to people over the years, what it means to them now, and what impact the changes that are taking place are having on the people that have made that meaning.