Aimeé Taylor, Public Engagement Officer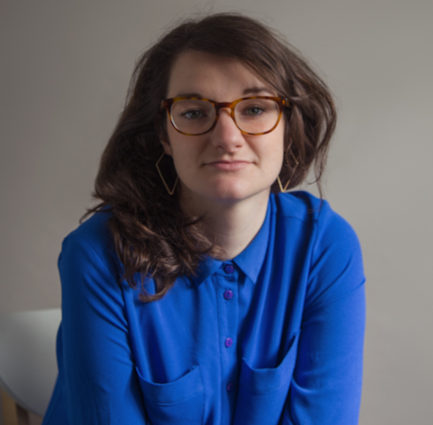 Aimée is responsible for both the volunteer recruitment and training as well as overseeing the delivery of public exhibitions across the project.
Aimée holds a Masters in Arts Policy and Administration from Birkbeck and an Applied Psychology degree from the University of Durham. Before joining the project, Aimée delivered several Heritage Lottery funded projects at BAFTA, the Ben Uri Gallery and the Design Museum. Prior to this she worked at both Tate Modern and Britain as part of the Visitor Experience team.
In her spare time Aimée likes to enjoy all the cultural delights that London has to offer.
Katie Russell, Heritage Coordinator
Katie is responsible for assisting across the project with historical research, content development and managing volunteers. Katie joined the Building Exploratory in January 2015, where she is the Project Coordinator overseeing various community heritage engagement projects.
Katie has an MA in History from the University of Edinburgh, and a postgraduate MA in Narrative Environments from Central Saint Martins. Since 2012, Katie has worked in educational and arts organisations, including Create London and The Architecture Foundation. She is also a qualified CELTA teacher and has taught English as a foreign language for several years both in the UK and abroad. Katie loves dance, theatre, dark chocolate and dreams of one day owning a big dog!
Polly Rodgers, Producer
Polly spends her time talking to as many people in the area as possible, and gathering stories from groups and individuals.
Polly has had a wide-ranging career in oral history and socially-focussed community engagement, working with communities to find, develop and share their memories across multiple platforms. She has extensive experience working with young people and disadvantaged groups, and finding and facilitating the stories of those who never imagined they had a tale to tell.
She loves London, but escapes to the wilderness whenever she can.
Michael Hall, Creative Producer
Michael will be producing and overseeing content production for the project. Prior to this he worked at New Zealand's National Museum, Te Papa as Imaging Team leader, overseeing digitisation initiatives and content production for a wide range of uses. Working with artists and community, his work has appeared in major touring exhibitions, publications and has featured across Te Papa's digital channels.
Working with Maori communities around the country he developed and ran a series of workshops aimed at building skills around digitisation.
Having played saxophone in various New Zealand bands, Michael is currently playing with London band 'The Articles'.
Nicole Emmenegger, Historypin Programme Director
Nicole is the Programme Manager for Historypin overseeing our various community and storytelling projects. She joined the team in September 2015. Nicole holds a Masters in Arts Administration & Cultural Policy from Goldsmiths College and a Post-Graduate Diploma in Heritage Studies from Birkbeck/University of East London.
Before joining Historypin, Nicole worked as Project Manager at Europeana in The Hague and previous to that as Knowledge & Information Manager for Arts & Business in London.
In her off time Nicole is a DJ, blogger and radio/podcast host with a special interest in female fronted bands of the post punk era.
Nicole Crockett, Building Exploratory Director
Nicole is director of the Building Exploratory with an established track record of partnership working, project development and stakeholder engagement. She devises projects that bring communities and professionals together to creatively explore heritage and the built world, taking them on journeys of discovery into the development and change of some of London's best-loved places. Her mission is to increase participation in public life and decision making.
Nicole has a degree in social sciences and a PhD from the University of Edinburgh. She was previously Assistant Director at the Architecture Foundation and has held board positions at the UK Architecture Centre Network, Greenwich Foundation and Civic Trust Awards. Nicole was made an Honorary Fellow of the Royal Institute of Architects for services to Architecture in 2011.